International team of teachers and consultants
Our team, are professionals certified to teach English as a foreign language, meeting the high criteria of the internationally recognized evaluation scheme "Cambridge English Teaching Framework".
Learning centred approach
Our teachers are focused on the needs, interests and goals of our students. We design course programmes so they are engaging and tailor-made for our students. Teachers facilitate the learning process and help students to develop their learner autonomy. Making practical tasks part of their lessons helps students to be engaged and motivated in the long run.
Experience and qualifications
Both professional experience and qualifications enables our teachers and consultants to be your partners for communication in business. They combine English lessons with practical tasks so your lessons have an immediate impact on your workload as well as improve your English skills for the future.
Continual development programme
We believe our continual professional development programme is a key element of providing quality teaching. Our teachers are trained and empowered in internal and external training as well as in our special mentoring programme. Monthly mentoring sessions help each teacher to cope with the challenges of teaching and help us to have an overview, hence quality control.
Our team
Teachers and consultants for communication in English.
Matthew McGeever
Inspiring, educated and well-traveled teacher specialising in tailoring his lessons to his students.
He graduated from the University of Oxford and completed his postgraduate and PhD studies in the Netherlands and Italy. In 2019, he was awarded the DELTA English teaching qualification.
Matthew comes from Leeds, England and has been a teacher at The Bridge since 2020.
What he values the most about teaching is "helping students achieve their goals and dreams". He believes that anyone can learn a language, just not in the same time or in the same way. He likes to turn to poetry, music and art in his lessons, which he adapts to his students' individual needs.
Matthew has been to 87 countries. He gets inspired by new places and enjoys swimming, reading historical literature and visiting galleries in his off time.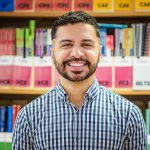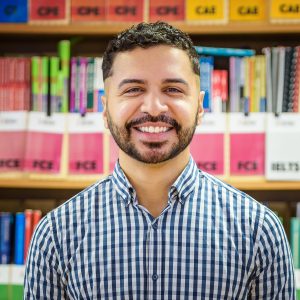 Luis Patrocinio
A passionate teacher with all his heart and soul able to tune his students to a positive vibe even after a tough day.
He has a degree in theatre studies and art. He has worked as a Cambridge-certified English teacher in Brazil and Slovakia, teaching adults, teenagers and children.
Luis comes from Brazil and has been a teacher at The Bridge since 2020.
What he values the most about teaching is "being able to share my knowledge with my students, that is what fulfills me. Building relationships, teaching, constantly learning and growing, sharing the joy and the good with the world".
He has Polish-Ukrainian-Portuguese-Spanish-Indian-African roots. Loves nature and singing, which he has trained under Jeanie LoVetri and has a range of 3.5 octaves.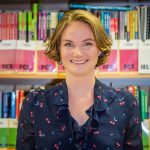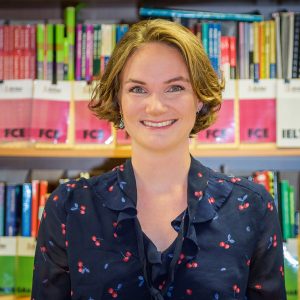 Sandra Weigl
Organised, level-headed and calm yoga lover with excellent communication and people skills.
Following her studies she had worked in tourism, but later decided on a career change. Completing her CELTA course in Edinburgh, she has started teaching English.
Sandra comes from Germany, from a small town not far from Munich.
What he values the most about teaching is "the love and the joy in the teaching profession". She finds teaching to be a hobby that gives her an opportunity to help her students grow.
In the last 8 years, she has lived in Spain, England, Scotland and China. She loves learning about new languages and cultures. Sandra is conscientious, responsible, reliable and reasonable. She loves travelling, yoga, dance, spending time in nature and enjoys music and movies.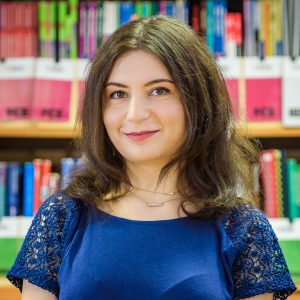 Jana Valová
An expert on British literature and Harry Potter, passionate about nature and good TV shows.
She has graduated from English and literature at the Masaryk University in Brno.
In the course of her studies she started translating and teaching English. Her love for English and English speaking countries has developed during a student exchange at a high school in the US.
What he values the most about teaching is "the chance to be my students' guide on the path towards their goals". She believes that English opens new doors for the people who can speak it.
She grew up reading Harry Potter, enjoys spending time with her family, friends and her little dog. She goes mushroom hunting and can crochet embroidery.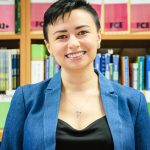 Darya Bayevskaya
An inspiring teacher with a wide range of interests, you will be able to have a rich conversation with her on any topic.
She has graduated from translating English and Russian in Ukraine and later gained an MBA in the US.
Darya (Dasha) comes from Ukraine and has been a teacher at The Bridge since 2020.
What he values the most about teaching is "the opportunity to help my students and celebrate the results of their hard work." She loves self-improvement and lifelong learning, finding it daily in her teaching job.
She started teaching while still at university. She is organised, responsible and able to establish a good rapport with her students quickly. She is multilingual and has excellent communication and problem solving skills.
The best way to relax, according to Darya, is a long walk in the woods with a good audiobook and headphones. She regularly skypes with her two chihuahuas living with her family in Ukraine.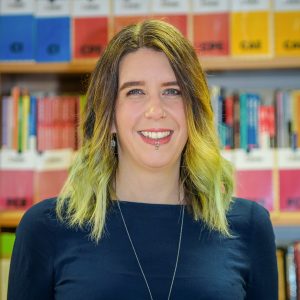 Emma Wyatt
Emma is a friend we all wish we had. Chill, empathetic and deeply invested in others, with a brilliant sense of humour.
She has a master's degree in literature from Queen Mary's College, University of London, and a CELTA diploma from the International House London.
What he values the most about teaching is "getting to know many inspiring students and helping them get better at English". She is talkative and enjoys meeting new people. At the same time she is also very structured and goal-oriented. Her students like her for her sense of humour and friendly nature.
Emma comes from the south west of England.
She enjoys reading, travelling, and visiting galleries and museums. Cooking and trying new recipes are her passions. However, you will not get her to go on a bike trip, as she can't ride a bike. She will gladly go on a hike though.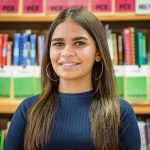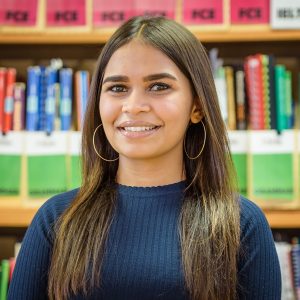 Sam Patre
If Sam hadn't become a passionate teacher, she would have been a comedy actress. A mature optimist that will always make you feel welcome.
She has gained a bachelor's degree in Business Administration from India and TEFL, TESOL and TEYL certificates from Thailand.
What he values the most about teaching is "the privilege to help spread knowledge. It is a feeling that cannot be compared to anything in the world. By being a teacher I can learn something new every day and it helps me in becoming a better person".
Sam comes from India and has been a teacher at The Bridge since 2019.
She has outstanding communication skills. Her enthusiasm is infectious and can inspire students of all ages. She is patient, responsible and speaks multiple languages.
Sam is a philanthropist and loves cooking, especially for others. While she looks like the embodiment of an extrovert, on the inside she is quite the opposite. She often finds calm and relax in solitude.