Why to join The Bridge team
We are a language centre which specializes in teaching English, located in Bratislava. Bratislava is safe multicultural capital city, located right in the middle for travelling to Praha, Vienna and Budapest.
EAQUALS accredited school
Teaching individuals & groups, different language levels & age groups, teaching hours upon agreement (standard is 20 – 35)
Professional team of teachers and colleagues
Induction process including buddy programme even in online version
Opportunities to grow your potential in different areas
Spacious staff room, extensive library, The Bridge café (cozy café with a bookshop in the same street)
Regular team building activities and events
Multicultural team and attractive location in the Old town of Bratislava
Our school provides opportunities.
Would you like to work in a team of professinals and take part in CPD with the best mentors?
Our school
Cozy premises and spacious staff room with extensive library.
Grow with us
Stability, transparent system of evaluation and renumeration, CPD.
Our team
People you want to work with. An international team of professionals.
Join us in Bratislava or from your living-room
We provide wide range of English language courses as well as consultation on English communication for clients all around the world
Come to Bratislava
Join our team located in Bratislava, a safe multicultural capital city, perfectly located – 1hr from Vienna, 2hrs from Budapest, 4hrs from Prague.
Teach online
Join us from wherever you are, our great team of teachers are professionals from all around the world.
Life in our school
To find out more us, our everyday school life and our events please check our Facebook page.
Get to know our teachers better.
What did our teachers say about being part of The Bridge team?
Emma Wyatt
"People ask why I came to Bratislava and The Bridge, but a better question is why have I stayed. The Bridge has invested more in developing me than any other school I've worked for. Not only do they actively encourage their teachers to be a part of the wider teaching community by attending and presenting at conferences, they also create further learning opportunities for us with regular training sessions with experts in the field. Not to mention the regular social activities they organise, taking care of us as people as well as teachers."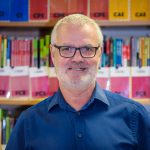 Ben Gwillim
"Over the six years that I have been working for the Bridge, I have seen it change, develop and adapt to fully meet the needs of its clients. We teach a full range of students at all levels and of all ages and also provide other professional training such as presentation skills and mentoring. I really appreciate the way that I have been allowed to develop my own approach to teaching and that I can turn to more experienced management for advice when needed. "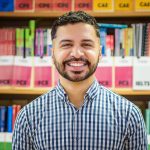 Luis Patrocinio
"I have been working for The Bridge since September/2020, but I had seen their work for a few years in conferences in Slovakia and Hungary before joining the team. The Bridge is run by professionals who love what they do, and this reflects on their staff. Personal and professional development is encouraged throughout the year in CPD and other sessions, so that we become the best version of ourselves. I am glad to be a member of The Bridge family."
Let us know about yourself.
Are you a responsible, engaged and independent individual who likes learning & teaching ?